Sunhine Coast Solar Installation
More than just your friendly and reliable local electricians, Gregg Hume Electrical are evolving to meet the diverse energy needs of the Sunshine Coast. Our family-operated business now proudly offers solar installation services for residential and commercial premises so you can harness the sun's power for clean, reliable and cost-effective energy.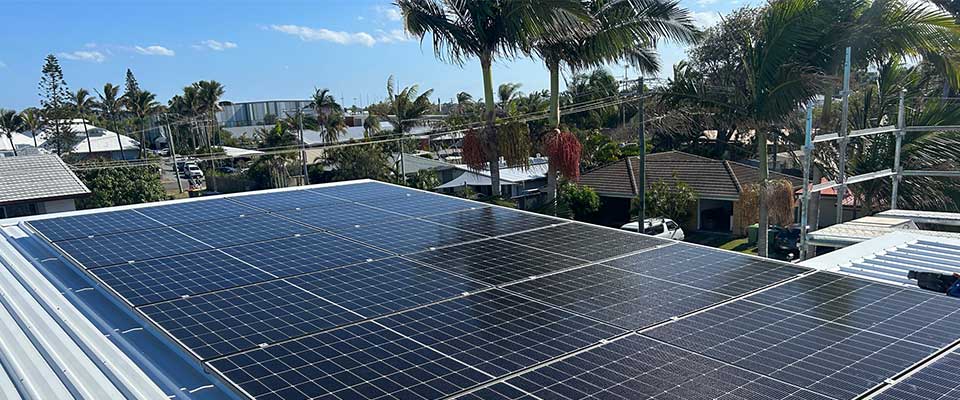 REQUEST A SOLAR INSTALLATION QUOTE TODAY
Are you ready to harness the sun's green and economical energy to power your home or business?
The many benefits of solar energy
Transitioning to solar energy isn't only a smart financial move, but it's also a big step towards a greener future.
Here's how you benefit:
Cost savings: Significantly reduce your electricity bills by generating your own power. Become less reliant on the grid, and you can even earn credits by feeding excess electricity back into it.
Environmentally friendly: Reduce your carbon footprint by using green, renewable solar energy.
Increase property value: Add instant value to your property. Buyers appreciate the value a solar-equipped home brings to the market, and solar is certainly becoming a preferred feature in home-buying decisions.
Maintenance and service: Solar panels require minimal maintenance, meaning they're easy and cost-effective to run.
Incentives and rebates: The Government often offers incentives and rebates, making installation even more affordable.
Energy independence

: Reduce your dependence on the grid. With battery storage, you can store excess solar energy for use during peak hours or in case of a power outage.